In 2009, organizations have become reorganizations. Change is coming to, or already has arrived at, an organization near you, whether by force of sudden downsizing or by choice in an effort to adapt to the global economic crisis. If done properly and intelligently, reorganization promises to be a low-cost, high-performance improvement strategy. And we have a prescription, a three-step program: (1) visualize, (2) analyze, (3) reorganize.
NetAge Report #2: Analyzing the organization as a network is the second in our reorganization series. In it, we expose three prevalent myths about hierarchy, replace them with three realities, and turn our analytic skills on the US government to illustrate new thinking about how to design a great enterprise. This analysis shows what can be done to reveal the intelligence and power hidden within the organizational structure itself.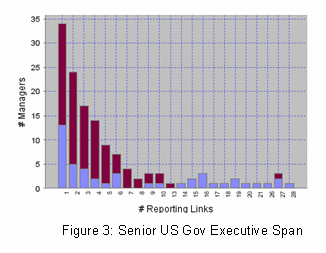 We have mapped the top levels of the US government using publicly-available org charts from the Bush administration (putting the new names and faces into the top jobs as Prez-elect Obama has named them). With simple network metrics, we've:
1. "Calculated" which of the government's most senior positions are the most heavily loaded, and
2. Compared and contrasted the organizational designs of different agencies.
Our key finding is that there seem to be "hubs in the hierarchy," a small number of highly connected, and very vulnerable, positions. This is consistent with our analysis of other hierarchies and findings from a broad range of physical, biological, and social networks. We have repeated Figure 3 of this report here to illustrate the distribution of reporting spans among the government's most senior executives. It is not normal, which in statistical terms means that it is not evenly distributed. In this chart, most managers ("# Managers" on the y-axis) have very few people reporting to them ("# Reporting Links" on the x-axis) while a few have a really huge number of people reporting to them. A "normal distribution" would have most managers having approximately the same number of people reporting to them.
As you read this, please keep in mind that we're operating without a license here. We don't have access to any special information about the government or the incoming Obama administration. And, what we do have is by its nature incomplete. Even so, we think there's some valuable information here for those very people who soon will be running our government. If you happen to know any of them, please direct them here. We deeply believe that better organizational designs lead to greater transparency and that we can work considerably better when we're operating in bureaucracies have intelligent configurations. If ever there has been a need for government to be more intelligent, it's now.
Click here for the first installment in our reorganization series, NetAge Report #1: The Digital "Reorganization" Chart. Also blogged it here.


Analyzing the Organization as a Network
If, in this difficult, resource-strapped, and uncertain environment, you have just been hired, elected, nominated, or appointed to lead a large, complex organization of hundreds, thousands, or, in Barack Obama's case, millions of people, you face considerable challenges.

You must get up-to-speed very quickly, putting names to faces and matching those to responsibilities, become familiar with each of the sub-units and what their special missions are, and getting an overall feeling for the spirit and meaning of the whole organization. At the same time, you, as the one in charge, will certainly start thinking about how to improve things—by reducing expenses, improving performance, setting priorities (which also can mean considerable triage), and ultimately reorganizing.
It's a truism to say that you don't know what you can't see. But, as we've seen in countless situations, the unseen can hurt you. This proves especially true when you reorganize, when you set out to deliberately change underlying organizational dynamics without clear views of what it is that you're reorganizing.
Imagine that the standard mental model of organizations that most of us hold is actually wrong. Imagine that the quick cartoon in our heads of how organizations work is in fact an epidemic distortion of reality. If this is true, it's no wonder that our large organizations don't function very well, that bureaucracies rapidly grow out of control, and that frantic steering from the top seems to have so little effect.
We've spent most of this decade looking at, analyzing, and interpreting how our institutions actually are organized. We're here to report that most of us hold a distorted view of organizations.
While people like to think the hierarchy is irrelevant, it is nevertheless unavoidable. If you doubt this, try to collect your paycheck without the hierarchy. Although many do in fact earn their living from networks, most people on earth are paid by formal structures.
Reorganization is particularly dangerous when blindness shrouds the real organizational design. Here, simple approaches, while laudable in many contexts, are sure to cause more harm than good. Take, for example, the recent report from a client: his company was going through a reorganization exercise prior to layoffs. In the new design, every manager would have approximately ten people on staff—regardless of function, level, or experience. Ten people per manager. Before smashing the hierarchy and/or issuing such one-size-fits-all reorganization edicts, we encourage you to look at the realities of your own organization.
Continue reading "NetAge Report #2: Analyzing the Organization as a Network" »